I come from 100% purebred Norwegian descent, which is kind of crazy, especially these days. Especially in Los Angeles. No one here ever believes that my hair is naturally blonde, but it is. I have a
Glogg
party every Christmas time to share our Viking traditions with my pals of all ethnic backgrounds ... and smash mugs together, pre-Holiday Pillaging.
One of my rocker friends, Nick Maybury, turned me on to a new clothing label last year called
Moods Of Norway.
Then I was talking with Valerie Hammond (owner of the much missed, Slave, which was the hippest store in Venice), who told me that she was repping a supercool new label that she was all excited about called Moods Of Norway! The world is indeed very small. Knowing I was a Norwegian gal, Valerie invited me to see their showroom downtown, and then head over to their retail store to chat with one of the founders, Stefan Dahlkvist, and hear what they're all about. And what they're all about is "Happy Clothes for Happy People." Sold!
Three young Norwegian guys - Stefan D, Peder Borresen, and Simen Staalnacke - met while attending college in Hawai'i (Weird. I also lived in Hawai'i) in 1999. They came up with the idea that they'd like to tell the tale of Norway through fashion, and create an international lifestyle brand through the 3 Moods of Norway: Street, Casual, and Cocktail. They began the label in 2002 in tiny, glacial Stryn, Norway (where their headquarters is still located, though they've now grown into the biggest label in their country!). They knew not at all what they were doing, but believed in themselves, and the idea that clothing "inspired by Urban Norwegian Everyday Living" would catch on globally. And it certainly has. They've doubled their business every year, recently held a massive fashion show in Oslo that featured models splashing down a watery runway (with the attendees all outfitted in Moods Of Norway wellies), and now have a U.S. Flagship store on fashionable Robertson Boulevard in L.A.
I walked into the store and immediately felt at home. Bright colors and sparkle, mixed with rustic wood cabin. Or exactly the competing sides of me! A big golden tractor greets you at the front of the store, and also serves as their logo. Each (gorgeous) Men's suit is embroidered on the arm with the number of tractors registered in Norway (last count: 234,243) in tribute to the farmers of that beautiful country. The current collection is actually called "Cocktail Farming", so you know that these guys have a great sense of humor, and are having a complete blast creating more fun for their label, and their lives.
Fun like sailing a big pink fishing boat around to rock festivals in Norway. Cruising around L.A. in a bright blue limo. (They're looking for a street legal Tractor too, if you know anyone looking to sell!) Outfitting a slew of Rock Stars, and even Perez Hilton! Hosting live sheep in the shop to give it a homey feel, as they serve up waffles and champagne each Saturday. Throwing up a sign on their back parking spaces saying "Parking for
Lefse
Lovers Only" (so it was cool that I parked there). Shooting a reality show (from the makers of
L.A. Ink
) to follow the guys around as they spread the M.O.N. Love around the world.
Stefan told me that their main goal is to make their Grandmothers happy. That love of both family and fun is evident in every aspect of the company. The clothing labels feature actual old photographs of the founders' families, with little grandpas out in farm fields, and families out for a stroll among the fjords. The dressing rooms look like a little wooden cabin, with Norwegian folk art paintings and needlepoint, and Sonja Henie books lying about. The underwear line is called "Grandpa's Disco Wear". Adorably.
Adorable is also an excellent adjective for every single piece of clothing I saw. Long dresses with names like "Tattoo Flower Satin" and "Sunshine Flowers" (I searched. My name MUST be in the lining somewhere on that dreamy chiffon one ...). Fresh kicks called "Super Duper Dancing Shoes", and brightly color-blocked tennies that have seemingly found a fan in Venice's own Harry Perry!
There are exquisitely tailored, satiny suits (20% off until May 17th!) with shorts in a fabric called "Field Flowers", and crazy plaid ones with Norwegian friends as the namesakes. With such bleak times - and palettes - hopefully on the way to being behind us, these clothes are taking back the fun of color and optimism. Just looking at the happy clothes gets you in a better mood(s)!
May 17th is Norway's National Day. We grew up flying the red, white and blue flag of Norway over our door in Minnesota (where this clothing line will be huge, I'm sure) each year on
Syttende Mai
, and have never had anything cool to do out here in SoCal for that day of celebrating our heritage. Well, we do this year! The Moods Of Norway store on Robertson is having a big party to celebrate both their U.S. store's 1 Year Anniversary, and the day of Norsk pride. Highlights are to include real snow for cross country skiing on Robertson ("We just call the Snow Guy" - Stefan)!, those live sheep, stylists there to dye peoples' hair blonde, perhaps an appearance by the #1 All time Norwegian band, Aha (
Take On Me
!), and of course, "Grandmas serving delicious waffles", as the invitation states.
Celebrate the fun spirit of Moods Of Norway on Monday, May 17 (all day long) at the Robertson store ... And every day that you put on a piece of their uplifting apparel.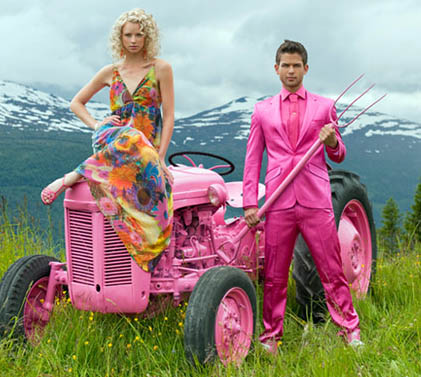 SKOL
!!!
Retail:
Moods Of Norway
113 S. Robertson Blvd. (by Kitson)
Los Angeles. CA. 90048
310.271.7172
Wholesale Contact:
Valerie Hammond
Connected Showroom
Cooper Building
Downtown L.A.
310.463.7184