When Kim's Market on Ocean Avenue closed a while back, it left a real void in that neighborhood, and for people like me who liked to stop in on my way to the beach. A new, colorful facade went up a while back, but the business had remained a mystery. Until today. Returning from my beach walk this morning, I saw that the front doors of the Tesuque (pronounced Teh-Soo-Kay) Village Market were finally open, so I went on in.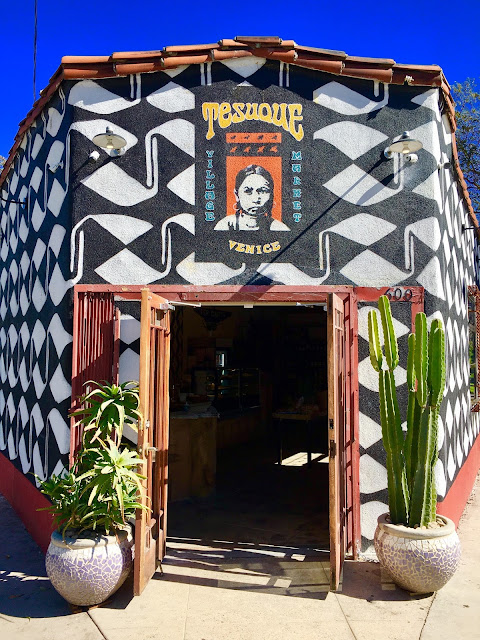 As luck would have it, today is the opening day! I met the owner Michael Stein, a mellow, cool-seeming guy who now divides his time between New Mexico and Venice. Tesuque is the name of the town and Native American reservation near Sante Fe, where the original
Tesuque Village Market
has been operating since 1989, "Where down home is upscale". When Stein wanted to expand his funky trading post to a new region, he chose Venice specifically for the "Funk factor". I like them already. (*The website link is for their New Mexico location. They don't have a restaurant in Venice. Or a website for it yet).
In a time when so much is changing and the corporate monster has been gobbling up so much of our Venice funk factor, I can really get behind a business that wants to not only honor that part of our community's fabric, but add to it as well.
Tesuque (I'm already shortening it to "Tesuqs") is a wonderful addition to this little corner of Venice, serving up full coffee service (using Verve espresso products) and breakfast burritos from 7 am, in addition to all the great products they have on offer to take home.
Cupcakes and pastries from Hotcakes Bakes, and a delicious looking sandwich case will fulfill your prepared food needs, while the shelves are stocked with all sorts of good stuff, well edited with something for everyone. If you don't see what you want, ask. They're very receptive to ordering things that their locals want, and very much want to strive to give the community exactly what is wanted. Give your feedback! Tesuque also got to keep the Kim's liquor license, so they've got everything from your Tecates to some pretty nice higher shelf tequila. There are the usual convenience store sundries as well, like toothpaste and dish soap, but since they're not that fun to look at on the shelves, they're kept in blue lockers out back. Nice.
As Tesuque hails from New Mexico, they have a nice variety of things from that region, including their own line of products, including this delicious sounding blue corn pancake mix.
The New Mexico location offers a full restaurant menu and bar, which all sounds delicious, but with all the Venice red tape, we don't get to have that here. Yet. I hope that can be sorted out one day soon though, because they have that nice back patio that would be a delight to sit out there and enjoy some New Mexican cuisine on. Nowhere around here serves that type of food, so that would another unique quality for Venice. I get that it's in a neighborhood, but they are very respectful of that ... so maybe someday we'll get those blue corn pancakes and killer margaritas in house.
"We wanted this to be a throwback market, to make it have a Bohemian feel like Venice probably was like 20 or 30 years ago," Stein told me. To that end, they've hired a crew of beachy, surfer types that make you feel right at home the minute you walk in, Brah.
There are colorful tables and art, making you feel like taking a load off to shoot the breeze with your neighbors. We all know it takes a village ... and Tesuque Village Market from the Land of Enchantment is now here to help. Welcome to Venice!
Tesuque Village Market
600 Mildred Avenue
Venice
310-751-6902