I finally got to see the wonderful documentary
Becoming Bulletproof
last night, and I don't know when I was last so moved. I say "finally" because several of my most admired friends were involved with the film's production and are very active in the film's subject - the campers and helpers of
Zeno Mountain Farm
.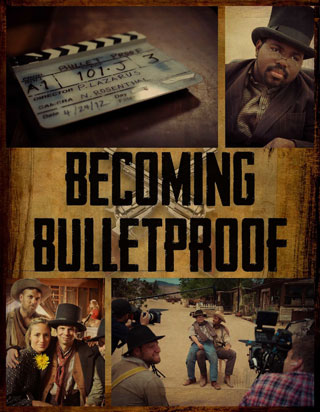 Pretty much all you need to know about Zeno Mountain Farm is summed up in their statement, "We believe that the most important thing in the whole world to us human beings is friendship, community, and the knowledge that we matter to each other. We want to make certain that everyone who comes to Zeno has full access to these things - regardless." Meaning that everyone who attends a Zeno camp will be included and respected and loved, no matter what their physical or mental abilities may be.
Each year, Zeno has a filmmaking camp, where everyone participates in the production of a movie. When they set out to make a Western called
Bulletproof Jackson
(directed by Peter Lazarus), documentary filmmaker Michael Barnett decided to follow the process and make a movie about making the movie. That movie became the sublime
Becoming Bulletproof
, playing this weekend (with Q and A's!) at the
Laemmle Music Hall
for Oscar consideration. To me, there are no other contenders.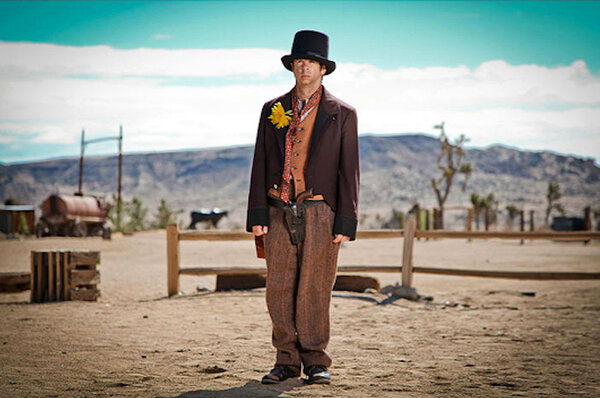 Zeno Mountain Farm headquarters are located in the heart of Venice, where the pre-production for the movie took place. Campers come in from all over the country to participate, and each year is a happy homecoming of friends reunited in the name of love.
Executive Producer, Jeffrey Pechter is a good friend of mine, and had been singing me the praises of Zeno for years, but until I saw this beautiful film, I really had no true idea of how incredibly special this organization is. Founders (and brothers) Will and Peter Halby, and their wives, Vanessa and Ila, created this visionary world, where people become friends for life, no matter what their ability may be. In fact, the more I got into the movie, the less I was even aware of who was able-bodied or minded, and who wasn't. What a beautiful thing, to no longer even be aware of any differences, all because of the sheer truth behind the simple concepts of acceptance and love.
I don't want to wreck the movie for you - because you HAVE TO see it - but I'll tell you that I'm practically dehydrated today from all the heart wrenching and happy tears I shed while watching this gem last night. The film is about everyone, but largely focuses on the journey of one camper, AJ Murray, who is burdened by cerebral palsy. The tears began when his mother lifts him out of his bed back home. They intensified throughout, but when Murray says that outside of Zeno, he feels worthless, it just crushed me. When his mother said that even though his body feels like one big charlie horse on rotation all day every day, yet he still wakes up with a smile, "I don't know how he does it" .... total wreck. When a mother tells how the doctor told her that she should let her baby die because it would only ever be a vegetable, she told him, "Well, I'm a vegetarian, so I'll take my vegetable to go, thank you.", I just lost it. When one of the campers, Judi, cuddles her baby doll so she has something to nurture, I nearly flooded the place. The entire film is one deeply moving and deeply inspiring moment after another. The sheer triumph when they get to see their movie for the first time ... done. I won't tell you the part I cried the hardest at until you see the movie and talk to me about it, but MAN. Oh, the Humanity! In the best way possible.
Which isn't to say that it's not also hilarious. I laughed out loud more than any Hollywood comedy movie ever. The humor and sense of self-awareness on display from every character was so great to behold, and also important, because with it brought an awareness in the viewer. That people tend to look at those with disabilities as just sitting there without any personality or feelings because that's where society has put them. In the Q and A following the film (awesomely attended and show stolen by the film's lead characters, especially Murray), director Burnett said that we're all talking about that big word "Diversity" these days, but Disability is almost always left completely out of the conversation. That hit me like a lightning bolt of truth, and amped this whole movie up into being a civil rights story, more than anything else - aside from a love story.
The movie is just so good that the Q and A was less about asking questions, and really became just a love and compliment fest. Everyone in there was crying and clapping and on their feet when it ended, and every comment was just, basically, "Thank you for being these angels in the world."
They truly are. No one is paid, and no camper pays to attend. All Zeno operations are funded by donors, and all the profit from this film will go back into Zeno, so that they may continue to make our world a better place for years to come. As the end credits stated, "AJ will be invited back for the rest of his life" - as all campers are.
I can't say enough good about this beautiful project, so please just go and see it for yourself. Again, it starts playing in Los Angeles tomorrow at Laemmle Music Hall, and you can go to
Tugg.com
to request them to play it in whatever town you're reading from, so everyone can see it. And everyone should. This film should be required viewing in every school, job place, church, anywhere people go in the world, really. Anyone that thought they were having a bad day due to bills, car accidents, a bad haircut, getting dumped, whatever ... will be nothing but grateful for all their life's blessings the entire way through.
However you may feel right now about people with disabilities, you will feel differently after viewing this film. The hope is that you will also then think and act differently, and that the entire world can begin to be actually inclusive and respectful to absolutely everyone. I know these filmmakers probably didn't set out to change the world with their fun little movie, but that's exactly what they're doing.
AJ Murray says near the end of the film, "I've never felt so much love before." I'm not sure I have either.
Heartfelt thanks and congratulations to every single person involved with making this incredible story. I'm about to tear up again, so please just go see it so that we can talk about it. Thank you.